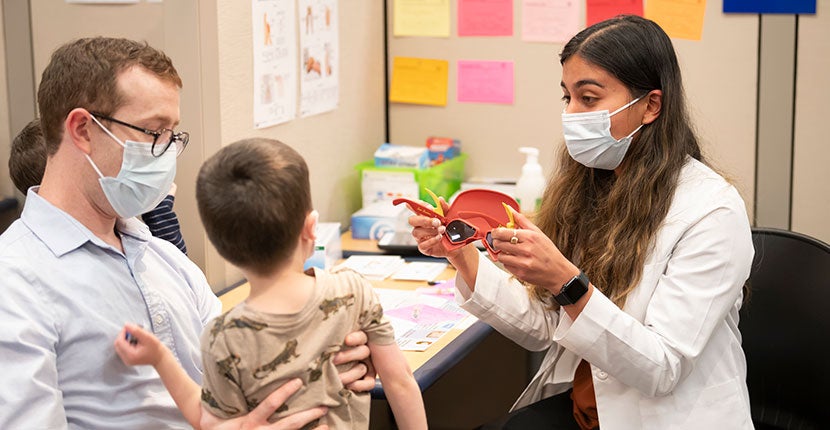 The Hub provides a warm, welcoming environment. We are here to answer questions about vaccines and get people connected to health care by combining best practices, patient education, continuous learning and process improvement.
Walk-ins are welcome subject to availability. The Hub is open to the public. Appointments preferred. Last appointment is half an hour before close.
Vaccinations for Everyone
We currently offer COVID-19 and flu vaccines, routine adult and travel vaccinations (ages 18+). We take most major insurance plans.
Vaccinations are given based on age and health indications set by the CDC (Centers for Disease Control and Prevention). We follow CDC guidance for timing, dosage and age qualifications for all vaccinations. Learn about adult and pediatric vaccination schedules and review CDC vaccine information sheets (VIS) for the vaccines offered at The Hub.
Flu
Each fall, our Hub team, in partnership with the Schools of the Health Sciences, provide mass vaccination events on the Oakland campus and daily flu vaccinations at the Hub.
COVID-19
CDC recommends that everyone over the age of 6 months stay up to date with COVID-19 vaccines for their age group. All currently available COVID-19 vaccines (ages 3+) are available at the Pitt Vaccination and Health Connection Hub.
Mpox
We also offer Mpox vaccines. The Mpox vaccine is free. You need two doses for the best protection. You can also visit the PA Department of Health locator to find an Mpox vaccination site near you.

Biometric Screenings for Pitt Employees
We offer biometric screenings only for Pitt employees who have UPMC health insurance through the University of Pittsburgh. Employees can get health incentive dollars for completing biometric screenings. Screenings include blood pressure, height/weight BMI, fasting cholesterol panel and blood glucose levels. Learn more »
Pre-Travel Health Consultations and Vaccinations
As you are planning for international travel, Pitt is ready to assist you with the planning.  We encourage you to plan at least 8 weeks in advance of your travel to have a consultation to learn which vaccinations you may need, and then make an appointment at the Hub to receive your vaccination:
Students

:  you can make a pre-travel health appointment with Student Health Services

Pitt Employees

:  you can make a pre-travel health consultation appointment with Pitt's

Comprehensive Medication Management services

available to Pitt employees with UPMC health insurance. The Comprehensive Medication Management services also include diabetes prevention, high blood pressure education, help quitting smoking and medication reviews.

Community Members

:  you can make a pre-travel health consultation with your primary care physician (PCP) or our Hub team on Thursday afternoons for an out-of-pocket cost.
Once you have had your pre-travel health consultation, the team at the Hub will be able to provide the vaccinations to you in partnership with University Pharmacy.
Questions? Call 412-383-4372 or email TheHub@pitt.edu.